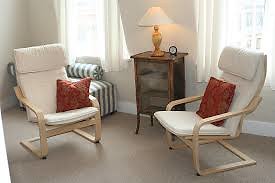 Psychotherapist in Liverpool
How do I work?
I am an experienced counsellor and psychotherapist, an accredited member of BACP (www.bacp.co.uk) and a Lacanian analyst in formation at the Lacanian school Nucep (https://nucep.com/quienes-somos-psicoanalisis). I practice an integrative therapy based on a Person Centre Approach informed by my practice as an intercultural social researcher and artist and my on-going training in the Lacanian psychoanalytic orientation. I work both short term and long term and I can work in English or Spanish.
What is Person Centred Therapy?
The Person Centred approach offers a way of being with another based in the belief of the other's potential and ability to make the right choices for him or herself, it believes that no one knows better than oneself what one needs and how to get there, and that every person's experience of the world is unique.
As a Person Centred therapist I will support you to make sense of your own experience giving you a safe, non-judgmental space in which to be deeply listened to. This in turn will often make you feel accepted, more confident in your judgements and less afraid of expressing your thoughts and emotions. From that place you can undergo your personal journey of healing and transformation.
I can also draw upon aspects of my research on intercultural encounters and the psychoanalytic approach if your desires to explore your experience lead us there.
How is my practice shaped by Interculturalism?
I consider every encounter to be an intercultural one. If helpful for your process, my knowledge of interculturalism can enrich our encounter by giving us a frame to understand the broader psychological issues that class/gender/ethnical/migration struggles can trigger.
How is my practice informed by the Psychoanalytic approach?
Psychoanalysis considers that there is an unconscious aspect of our experience that is shaped by previous experiences and strives to support the client to explore them. If it is useful for your process, and a direction you would like to take, the psychoanalytical approach can enhance the counselling process by helping us look at your past experiences.